Should I take out an Amazon Prime subscription?
Amazon Prime Guide: You should know that before you book Prime
Amazon has managed to be constantly present in our everyday life with innovative ideas and new products. In our big Amazon Prime Guide we deal with all the services that await you in your Prime subscription - including a few surprises. With this guide you can get the most out of your Prime subscription.
When Amazon started its Prime program, the original idea was to offer customers free shipping. That's still like that. But in the meantime, many other advantages have been added to the Prime subscription. Let's look at these now.
Try Amazon Prime for 30 days for free
Premium shipping at Amazon Prime: These are the shipping advantages
That's where it all started. A few years ago it was normal for us to have to pay the shipping costs when ordering online. If you wanted to do without it, you could take out a subscription with Amazon Prime: Order as much as you want - completely without shipping costs.
Prime premium shipping
As already mentioned, you pay no shipping costs with Prime products - look for the Prime logo here. In addition, the products are delivered quickly. If you want to select a Prime product, Amazon shows you until when you have to order so that you can get the product delivered the next day.
This is not possible for all articles, only for the marked Prime articles. There is now such a large selection that it hardly makes any difference and you don't have to search long to find a Prime item.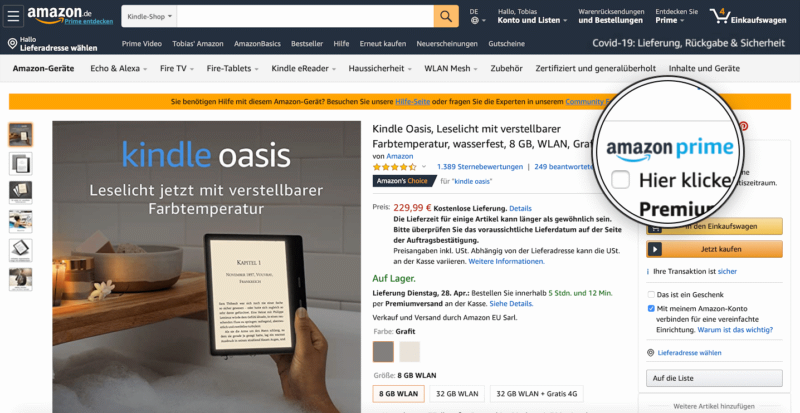 Example of a product with the "Amazon Prime" logo
In addition to free standard shipping, you can also choose a discounted Morning Express delivery. So you pay only 5 euros instead of 9.99 euros for a morning delivery (by 12 noon).
Prime same-day delivery
Delivery on the same day of the order has not been around for a long time. This type of delivery is not yet possible in all of Germany, but only in 20 metropolitan regions.
Pay attention to the addition "Free Same-Day" for the individual product, buy for at least 20 euros and select same-day delivery at the checkout. You will receive your products on the same day between 6 p.m. and 9 p.m.
Desired delivery time
With Amazon Prime, you have the option of setting a desired date up to eight days in advance. This type of delivery is currently possible in 14 German metropolitan regions.
You choose a two-hour period from Monday to Saturday between 10 a.m. and 9 p.m. and you will receive your goods exactly then. This type of delivery is not free, but costs EUR 2.99 per delivery.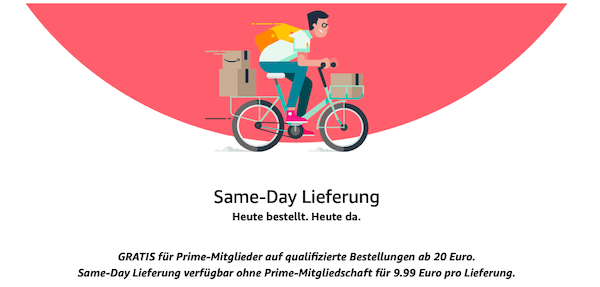 This is the same-day delivery on Amazon Prime (Photo: Screenshot / Amazon.de)
Lightning Deals On Amazon Prime
With the lightning offers, Amazon puts many products every day that are only reduced for a short period of time. Every buyer can secure a discounted product. Prime customers have a decisive advantage: They have access to the limited offer 30 minutes earlier.
Simply explained using an example: A popular smartphone is discontinued as a flash offer at an announced point in time. If there are enough Prime customers to secure the smartphone 30 minutes before the official start, there may be nothing left for the other customers.
Here you will find an overview page with tech bargains on BASIC thinking.
Amazon Prime Day: Countless offers for Prime customers
Amazon regularly offers its Prime customers action days on which a particularly large number of Prime products are reduced. For example, Amazon Prime Day, Black Friday and Cyber ​​Monday, on which customers receive new offers every hour.
Amazon Prime Day usually takes place in July. Black Friday traditionally takes place on the Friday after Thanksgiving (a public holiday in the USA). The Monday after Black Friday is Cyber ​​Monday. On this day, too, there are special offers only for Prime customers.
Try Amazon Prime for 30 days for free
Amazon Prime Music: More than just music
Your Amazon Prime membership also includes a Prime Music subscription. You have your own app with which you can listen to over two million songs. You can download your favorite songs and listen to them offline or use Alexa to play them. You can choose from thousands of playlists and radio stations so that you can find the one that's right for you.
In addition to the music, you can listen to the Bundesliga, the second Bundesliga, the DFB-Pokal, all games of the German national team and the UEFA Champions League live in the Amazon Music app. In addition, there are exclusive interviews and a weekly summary of the Bundesliga.
Try Prime Music for 3 months free of charge
Prime Reading: Read for free with Amazon Prime
You don't necessarily need a Kindle to use Prime Reading. You can download the free Kindle reading app for iOS and Android devices. You have the choice between changing e-books, e-magazines and comics.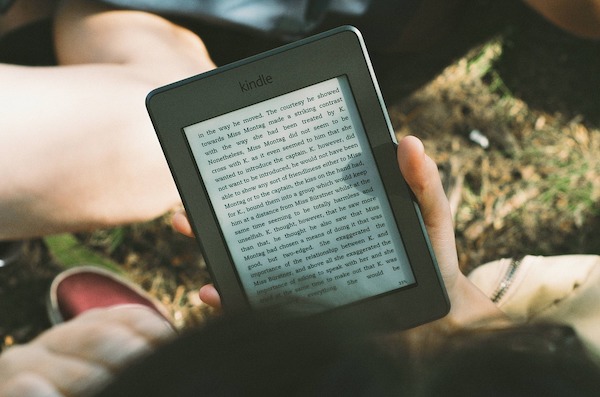 Amazon Reading is possible on Kindle (Photo: Pixabay.com / FreePhotos)
To find the large selection of e-books and e-magazines, simply search for "Prime Reading" on Amazon. You are immediately shown all books and magazines. When you have found the right one for you, simply click on "Read for free". The e-book is available to you directly in your Kindle reading app.
Audible: Exclusive advantage with Amazon Prime
If you enjoy listening to audiobooks in addition to e-books and e-magazines, an Audible subscription would be something for you. As a Prime customer, you also get a special offer here: You can test Audible for 30 days for free and choose two audiobooks for free during this test period. After the test period, the Audible subscription costs 9.95 euros per month.
Try Audible for 30 days for free
Amazon Prime Video: Unlimited films and series
The most famous product from Amazon Prime is Amazon Prime Video. There are thousands of films, series and originals available for you to watch indefinitely. The important thing here is that you have to look out for the Prime logo on these films and series as well. If it is available, you can view the formats for free.
In addition to the many prime films and series, there is also a large selection of films and series to rent and buy. Accordingly, you won't find the Prime logo on the cover.
If you buy the movie or series, you can watch it over and over again. If you rent the film, you of course only pay a fraction of the price. You then have 30 days to start the film. It will be available to you for 48 hours from the start of the film.
Try Amazon Prime for 30 days for free
Rent films cheaper instead of buying them: Amazon Prime Video
Amazon Prime regularly offers its users promotions to rent films for a price of 0.99 euros (the normal price is usually 3.99 euros). You can then choose the films that you like from a given selection.
You can use Prime Video on many devices and download the app for your smartphone, tablet or smart TV. Or you can simply use your browser to log into Amazon Prime Video.
You can also download the Prime films and series and watch them in offline mode at a later date.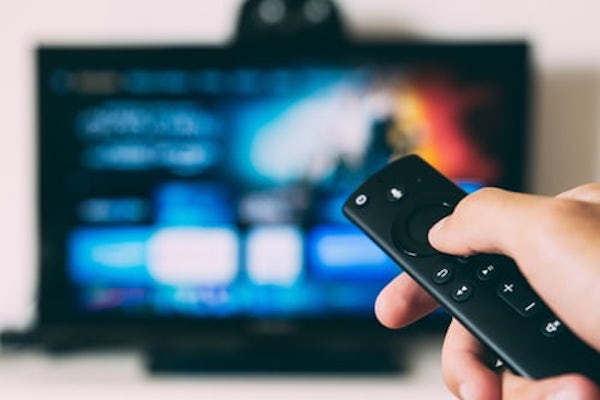 Amazon Prime Video can be used on the smart TV. (Photo: Unsplash.com / Glenn Carstens-Peters)
Amazon Prime Video: Channels and Live Football
In addition to the films and series, you can book additional channels. The selection includes many different genres, from horror to documentaries to children's programs.
As a Prime member, you can first test these channels for 30 days and then book them. The monthly price is between 2.99 euros and 3.99 euros per channel.
You can also book a Bundesliga live package for 4.99 euros per month. Here you can watch selected games live directly via your Amazon Prime Video app.
Here you will find an overview of all bookable channels.
Try Amazon Prime for 30 days for free
Amazon Family: Tailor-made offers for your child
With Amazon Family, if you enter the age of your child on Amazon, you will receive suitable offers. From child seats to toys, Amazon suggests the products and offers you need right now.
The highlight of the Amazon Family is something else: You can order the diapers and baby food via Amazon and then get up to 20 percent discount on these orders. So not only do you get everything delivered to your home on a regular basis, but you also have to pay less for it.
Under Amazon Family you can log in directly with your children's data. As a Prime customer, you can then choose the savings subscription. From now on you will receive the deliveries in your chosen rhythm and you can save up to 20 percent on repeat deliveries.
Amazon Pantry: do weekly shopping online
With Amazon Pantry, you can have groceries, beverages and household goods conveniently delivered to your home. Except for all fresh goods, you can use this service to get all products for your weekly shopping.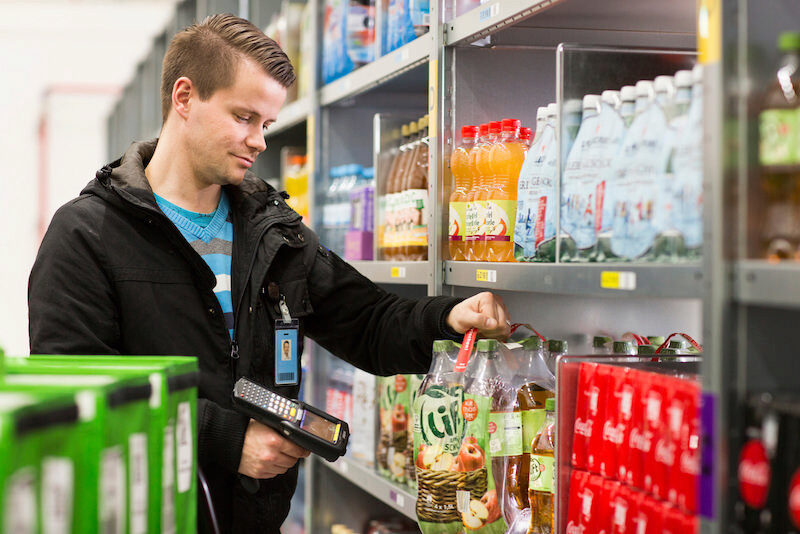 The Amazon Fresh warehouse (Image: Zucker PR / Amazon)
This service is only available to you as a Prime customer. You pay a flat-rate shipping fee of 3.99 euros per box or 5.99 euros if you want the box to be delivered on a desired date.
Amazon Fresh: Have fresh groceries delivered
What you can't get from Amazon Pantry is available from Amazon Fresh: You can have fresh groceries delivered to your home. The offer ranges from vegetables and fruit to meat - the choice is really large. However, Amazon Fresh is currently only available in four regions in Germany.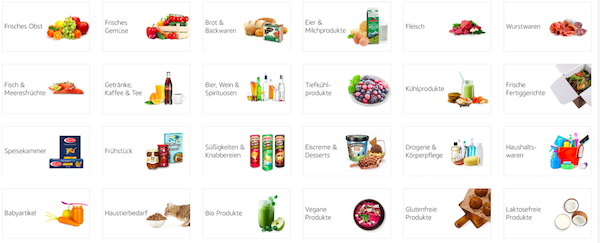 You can order these products with Amazon Fresh (Photo: Amazon.de / Screenshot)
You have flexible delivery options from Monday to Saturday - even on the same day if you want. Amazon Fresh is only available to Prime customers for an additional 9.99 euros per month.
With an order value of over 40 euros you pay no shipping costs, under 40 euros you pay 3.99 euros in shipping costs per Amazon Fresh delivery.
Try Amazon Prime for 30 days for free
Prime Now: Delivery within two hours
Under Prime Now or with the free Prime Now app, you can check whether the service is already available in your region. Then you can choose from thousands of Prime Now products and then follow the delivery in real time. The minimum order value is 15 euros.
You have the option to choose a delivery within an hour for 7.99 euros or a delivery within a two-hour window. Delivery within a two-hour window costs 3.99 euros for orders under 40 euros and is free for orders of 40 euros or more.
Twitch Prime: Get free game content
Twitch is the world's leading platform and community for gamers and live streaming. There are more than 1.7 million gamers on the platform who regularly stream their games. Viewers can watch the stream and chat with gamers.
Twitch Prime is free for Amazon Prime customers. You receive free game content such as characters, vehicles, skins or boosts. If you connect your Amazon account to Twitch, you can use this content for free.
Prime Visa Card: Credit card for Amazon customers
For the Prime Visa card (or colloquially: the Amazon credit card) you must be based in Germany and be at least 18 years old.
Prime customers and non-Prime customers can apply for the Prime Visa card. There are some similarities and differences:
| | |
| --- | --- |
| Prime | Not prime |
| 30 euros starting credit | 30 euros starting credit |
| 0 euro card fee | 19.99 Euro card fee * |
| 3% cashback on Amazon | 2% cashback on Amazon |
| 0.5% cashback outside | 0.5% cashback outside |
* from the 2nd year, the first year is free for non-Prime customers
So you get more cashback on all payments that you process via Amazon. This will be credited to you in the form of bonus points. One bonus point equals one cent. So if you buy as a Prime customer for 10,000 euros per year, you will receive 30,000 bonus points (= 300 euros cashback).
In addition, there are all payments outside of Amazon (e.g. purchases in the supermarket, travel bookings or visits to restaurants). For this you also get another 0.5 percent cashback.
Get your Amazon credit card now
Amazon Photos: Unlimited Storage
As a Prime customer, you have the option of organizing and storing all your photos indefinitely. You have your own photo app available for this, with which you can upload the photos to the Amazon cloud.
As a "normal" Amazon customer, you also have this option, but it is throttled to 5 GB of storage space. Only as a Prime customer do you have unlimited storage space for all of your photos.
You can download the app for iOS and Android devices, or use the browser version of Amazon Cloud Drive with Mac or Windows.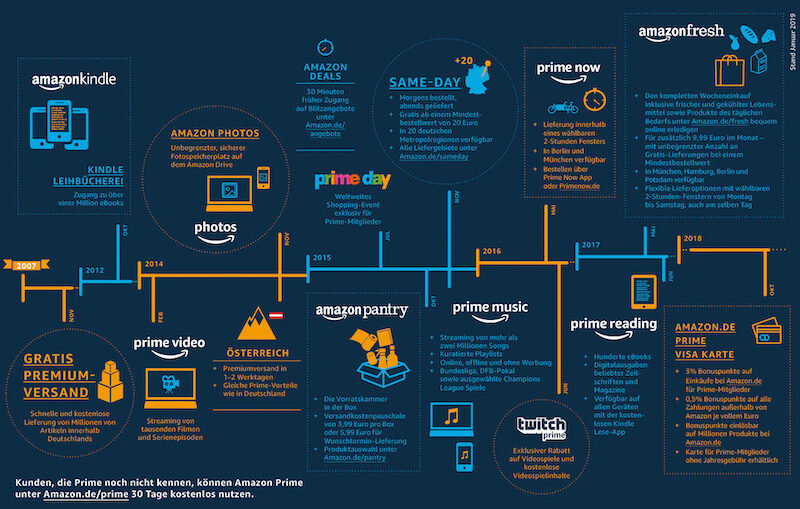 The development of Amazon Prime (Image: Amazon)
Amazon Prime: Share with family members
If you have an Amazon Prime subscription, you can share the shipping benefits with up to five family members. However, Amazon limits this function to family members who live in the same household as you.
It is not possible to share the other functions, such as Amazon Music or Amazon Prime Video. To share the shipping benefits, you can manage your membership in your Amazon account.
Under the point "Share Prime Benefits" you can enter the name and email address of the relatives. You can also stop sharing at this point.
Amazon Prime for students
As a student, you have a special advantage at Amazon: In the first year membership is completely free and in the second year you only pay half the normal fee. The shipping benefits are available to you in the first year. From the second year onwards, all other Prime membership products.
This discounted membership is possible for a total of four years, provided that the course or training continues throughout the period.
Book Amazon Prime for students
Amazon Prime: Register now
If you would like to take advantage of these advantages, you can register for your Amazon Prime subscription here and use the 30-day test period. If you decide to subscribe afterwards, you will pay EUR 7.99 per month or EUR 69 per year (EUR 5.75 per month).
Register for Amazon Prime now
---
This article contains affiliate links.