Guests online: 1

· Members online: 0

Total members: 13
· Newest member: DieHades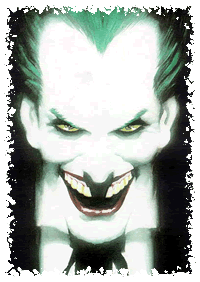 Publishing company: DC (© Copyright by TM DC Comics)

Surname: Joker (also freely translated the meaning "joker" or "jester" or the playing card "joker")

Other names: Clown Prince of Crime, Harlequin of Hate, Ace of Knaves

First appearance: Batman # 1 from 1940

Created by: Assistant draftsman Jerry Robinson, revised by Bob Kane and Bill Finger (all three gentlemen like to see themselves as "creators" of the Joker - that's why all three are named).

Arch enemy / enemy of: Batman

Origin of the name: The Joker is one of the most enigmatic and charismatic characters in the DC universe. According to Jerry Robinson, the name comes from a Joker playing card. From such a card he took the face and appearance of the Joker.
The second approach to explaining the name is the fact that the Joker always leaves a Joker playing card at the scene of the crime as a reference or trademark.

Superpowers: Joker's superpower is hidden in a single organ of his body: his (mega) sick, but also devilishly ingenious, brain! He has no more superpowers as such than Batman.

History of origin: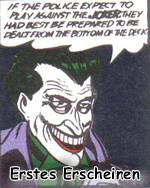 The Joker should never actually have a "history of origin". His identity should never be clarified either - in order to preserve the mystery surrounding the Joker. Unfortunately, in the course of his comic history, more and more light came into his past.
What is certain is that he was once an unsuccessful comedian who got on the wrong track due to lack of money. When a factory was broken into, he was caught by the guards and fell into a container with chemicals. This accident bleached his skin white, his hair green and his eternal, crazy smile etched on his face. When he sees his disfigured face in the mirror for the first time, the shock makes him crazy - and above all - a JOKER.
This scene was also used in the 1989 film "Batman". In this film, the Joker was also the murderer of Bruce Wayne's parents (Tim Burton is said to be forgiven for this "cinematic freedom").


Joker in the movie:
In 1989 the Joker first appeared in a Hollywood production. Tim Burton directed and Jack Nicholson played Batman's archenemy.
In 2008 Heath Ledger played the Joker in "The Dark Knight". So grandiose that he received the Oscar for best supporting actor in 2009. Unfortunately, he was unable to receive the award in person because he died in 2008.

Different faces of the Joker:



Comic joker



Joker drawn by the exceptional comic artist Alex Ross



Joker from the 1989 Batman movie Jack Nicholson



Unforgettable and Oscar-winning: 2008 Heath Ledger as Joker in "The Dark Knight"




Joker links:
www.jokerfanpage.mynetcologne.de


Copyright notice: All DC Comics characters and the distinctive likeness (es) thereof are Trademarks & Copyright © 1939-2013 DC Comics, Inc. ALL RIGHTS RESERVED


There are no published comments.
Please log in to post a comment.
Please log in to leave a review.
---
No ratings have been submitted yet.

Not a member yet?
Click here to register

Forgot Password?
To request a new password, click here.