Which Indian university is like Stanford University
Keyword:
Stanford University
2014-09-22: MBA at Stanford
MBA: Stanford week begins
Back in Stanford, at my old place of work. A wonderful experience, albeit a far too short one with only two weeks. With my MBA course I will explore Silicon Valley for a week, learn about the American health system, immerse myself in the world of ontologies and ICD 11, understand how health organizations try out new procedures and therapies and of course enjoy the late California summer. But see for yourself:
Preparations for the MBA week
The anticipation is great: This week I booked the trip to Silicon Valley: flights, rental car and hotel, although hotel is not exactly the right expression: I will be back at the Stanford Guesthouse with my MBA students.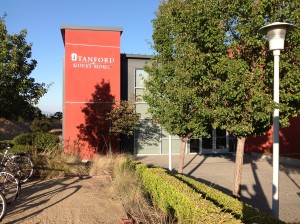 As always, we can look forward to fantastic weather in September. A real "nice weather MBA" :-). At the moment, however, Stanford is still dissolving a little in self-pity and posting pictures of "Reflections of winter at Stanford". The poorest suffer: from rain. How terrible ;-)!"
2013-09-24: MBA: Only places on the waiting list
I started the application phase at midnight, and at 9 a.m. my alumni secured 15 places for the MBA. Some recipients of my newsletter have applied for the two remaining places, so there are currently only places on the waiting list.
This huge interest overwhelms me! Thanks!
Let me know if you are interested in one of these places on the waiting list, because with an MBA you not only expand your business skills, but you can also impressively document this with a title.
Just write me an email or send me a message using the contact form! I'm looking forward to hearing from you!"
2013-09-17: MBA: Last chance
The preparations for the MBA 2014 have been completed. The dates, topics, locations and lecturers have been found. We can look forward to a very special MBA, one that is specially created for people who are planning the next career step in healthcare IT and who want to experience a week of study in Silicon Valley at two of the world's best universities.
Because we expect significantly more applicants than places, we allocate the study places in stages:
Starting today, 17.09. Previous alumni can apply.
On 19.09. I inform the subscribers of the MBA newsletter about the application process.
From 23.09. I will also open the procedure to other interested parties - if there are still places available, which I do not expect at the moment.
But you can get a head start by subscribing to the newsletter. Use this last chance to take part in a top-class MBA program. "
2013-09-13: Wild life: learning and living in nature
I should be careful with the cougars, says my lecturer as she shows me a sensationally beautiful jogging path. Shortly afterwards I jog through a forest that is as wild as it is wonderfully natural. It smells of eucalyptus and the needles of the sequoia trees. What a privilege to be able to run here, I think, when branches break with a huge crash and an animal suddenly stands in front of me.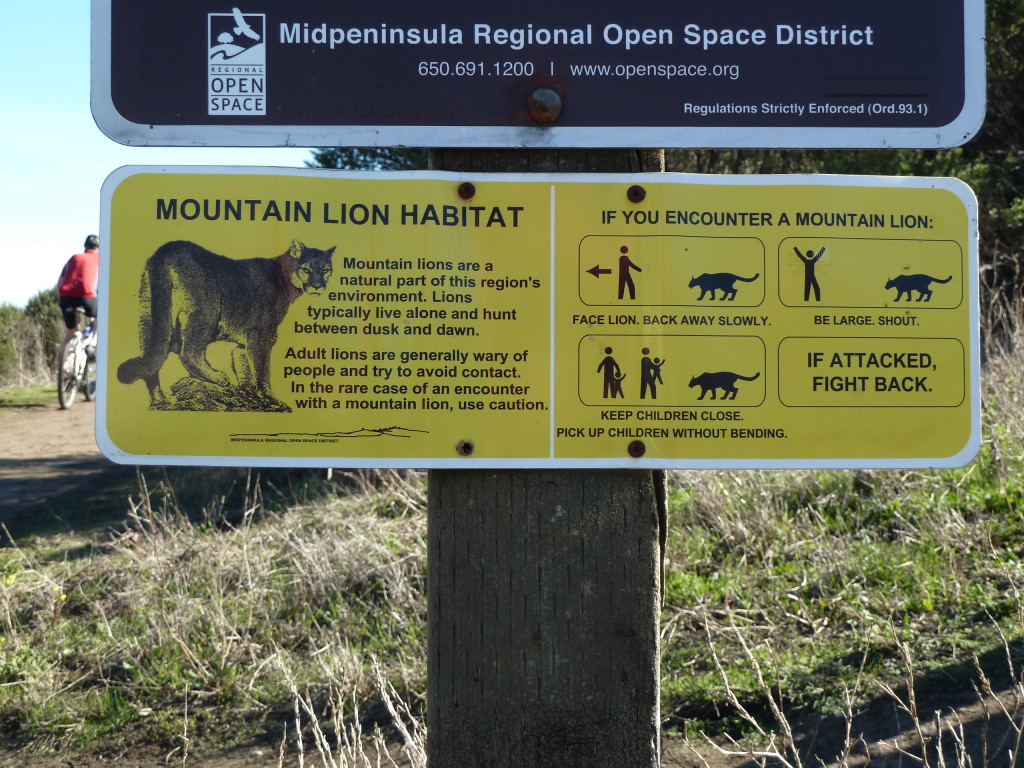 My lecturer taught me not to run away from cougars. I couldn't either, I am paralyzed with shock. But it is a deer that stands six feet in front of me. I don't know which of us is making the stupid look on our faces right now. After a while, the way is clear. Who Said Deer Shy?
Half an hour later I enjoy a sensational view of the bay. My MBA students will enjoy it, here you can relax perfectly. The study week lives up to the institute's motto: learning and living - with mind, body and soul.

2013-09-11: IT for healthcare
Two organizations, two goals and one thing in common. This is how you could summarize what I learned today:
The day begins with the drive to Kaiser-Permanente. Already in the car I hear the advertising of this oldest and largest HMO in the USA: 42% fewer strokes are among its members.
I have the privilege of being able to speak to a high-ranking representative of this group about an hour later. She reports how carefully the data of her millions of insured persons are evaluated, how the disease factors can be identified through studies that have taken decades. Kaiser-Permanente as a "total provider" has all the data: From (own) resident doctors, hospitals, pharmacies, dentists, therapists. They all point out the offers and risk factors to their patients: The pharmacist reminds them that preventive measures are overdue. The dentist advises that there is still medication to be picked up.
Is that paternalism or control? We will find out more about this during our visit next year. This system seems to work.
By the way: The doctors are also exposed to a continuous comparison in the system: Who has the patients with the best-controlled blood pressure? Whose patients come most regularly for preventive care. Data drives this system.
Then it goes from Oakland to San Francisco to the UCSF (University of California, San Francisco).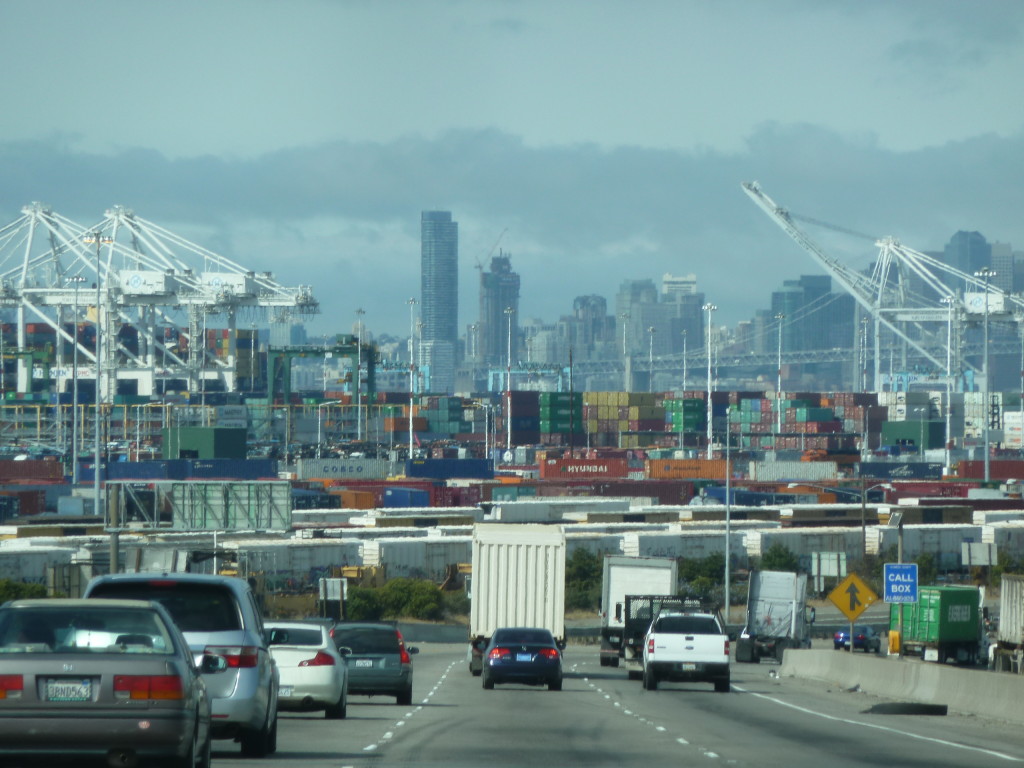 View across Oakland Harbor towards the San Francisco skyline
Here, too, nothing works without IT: algorithms identify the areas in genetic data that contain information about the course of diseases such as MS. These are correlated with clinical data. On the iPad, a researcher shows me how he can visualize the data from patients and comparison groups together.
Sure, the UCSF is one of the best universities in the world, but at this moment I wonder how far traditional hospital IT is lagging behind and what almost medieval-looking technologies European doctors have to use to carry out research and care.
I'm still working on ensuring that we can come here with the MBA next year. In any case, the gangs are tied.
2013-09-10: I'm here!
Everything is so familiar, even the waitress at Starbucks still knows me. As if I had never been away. Only the accommodation this week differs from my apartment during my Stanford time: I'm in the Stanford Guesthouse.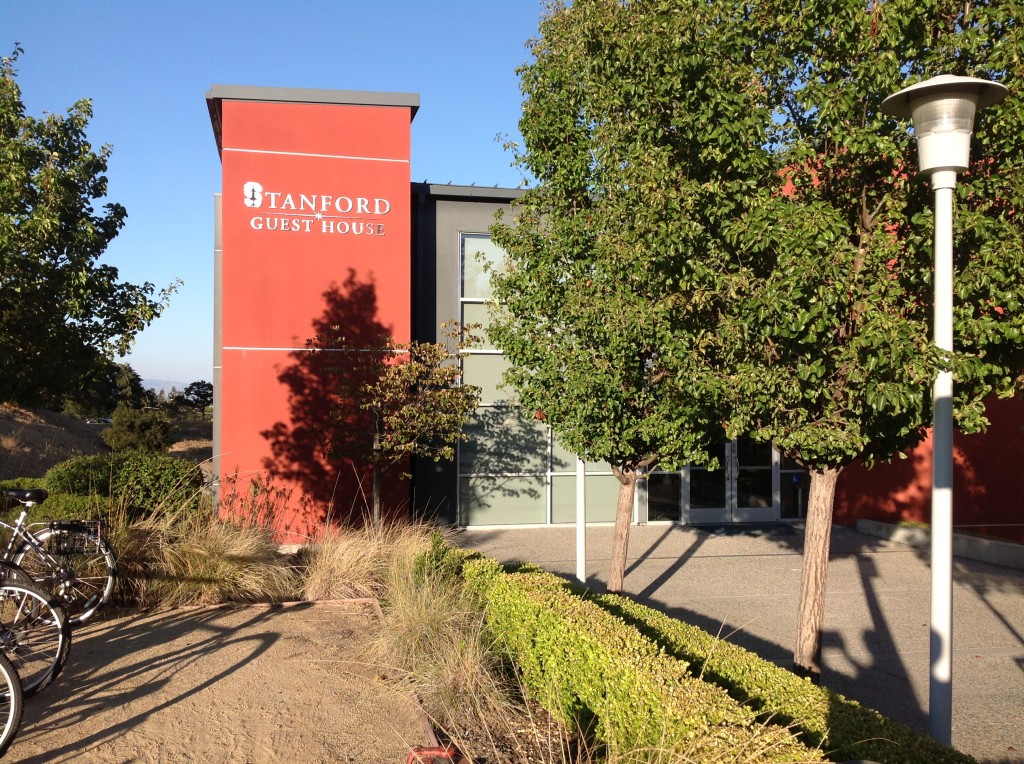 This week is going to be exciting: The goal is to put together a curriculum and faculty that will help my MBA students understand not only the US healthcare system, but also future trends. This will help the graduates on the job to think outside the beaten track and fixed in Germany and to set the right course for their own company or employer.
Next week Denise Silber will perform here in Stanford. In a current lecture about innovations in healthcare IT and information management in Europe, she reports on Finland, Denmark, UK and Israel. Germany is missing.
So intellectual fresh meat is the order of the day. That's what I'll get for the MBA this week. :-) "
2013-09-08: Stanford Newsletter
The final spurt for the MBA 2014 begins! I'm flying to San Francisco on Sunday. I meet with the lecturers and prepare for Stanford Week.

For all those who would like to find out more about these preparations, I have set up a separate newsletter. I plan to report on the progress in about 5-10 e-mails and to inform you when you can apply. My students and alumni have priority. This is followed by those who have signed up for the newsletter. And then - then there will probably be no more places that I would offer publicly.
Sign up for the newsletter right away. Find out who I am meeting with - there are exciting people there - and be one of the first to have the opportunity to apply for the MBA!
Here you can
subscribe to the newsletter.
2013-08-30: LX 38
It's that time again: LX 38 will take me from Zurich to San Francisco in a few days. The last fine-tuning for the 2014 MBA study week is pending. I will start the enrollment phase at the end of the second week of September. First for the alumni of the previous courses. If there is still a free space, which I do not expect, also for other interested parties.
I'm excited and looking forward to the preparation week - even more to the MBA with another Stanford week.
2012-03-22: Stanford - not cool enough anymore?
Respect, I think, when "my professor" in Stanford tells me that a colleague has quit his civil service position as professor at Stanford in order to break new ground in teaching.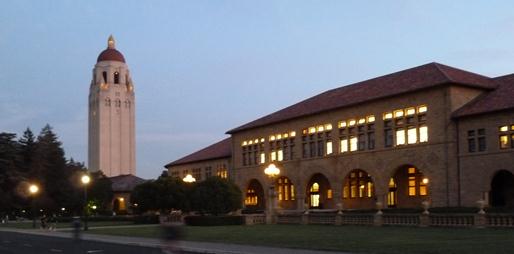 Sebastian Thrun, an expert on artificial systems from Germany, has set up a new company called Udacity. This is also reported by SPIEGEL Online. The title of the article, "The university uses methods like it did 1000 years ago", makes me think.
Are online lectures the new way of learning?
That speaks for it
The number of possible listeners is almost unlimited. Sebastian, with whom I am in contact, had an incredible 160,000 participants in his seminar on artificial intelligence. At the institute there are 16 ...
This form of mediation also allows people with little or no budget to learn. That's what I mean by equal opportunities.
Why travel The next lecture is just a click away.
The quality increases: every error, no matter how small, becomes transparent, is noticed, communicated and can be improved. The lack of precision of many lecturers is impossible here.
Against this, however, speaks:
Learning is also a social process. The communication between the participants and the benefit from the wealth of experience of the others represent an extremely important aspect of learning in my master's degree programs. The direct connection with the everyday work of the others is also easier in a personal conversation.
There are skills that can hardly be conveyed via video. This may work for many cognitive abilities. In the area of ​​psychomotor skills, for example making music, this will hardly work.
With 160,000 participants it is clear that timely and individual support is hardly possible. Those who cannot find the necessary answers in the FAQ have a harder time than those who can ask the lecturer a direct question.
Just try it out. You can register for Sebastian Thrun's online lectures as well as come to the institute for a trial day. Please contact me. You are welcome!"
2012-02-29: election campaign
I love being here at Stanford and enjoying the inspiring company of the university environment.
I am all the more upset when I come across such "expressions of opinion" while jogging.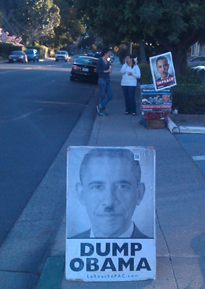 Is it just because I am German when I am at a loss for words?
2012-02-27: Finally spring
The trees are in bloom, the sun is shining, it's spring - in California.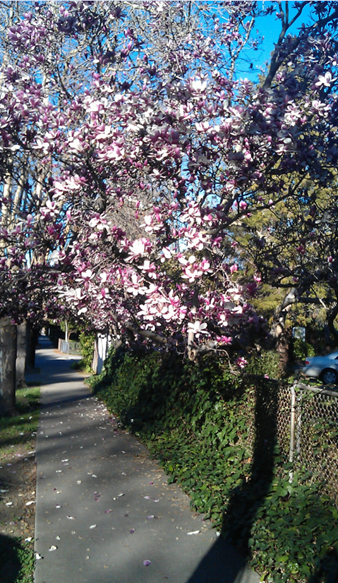 Hopefully back in Germany soon. "
2012-02-23: Going west
Well, I'll be gone then.
Once every six months (at least) I get wanderlust. Now it's that time again. So off to my second home, Stanford. Let's see what I can arrange for the next MBA course and which collaborations can be triggered.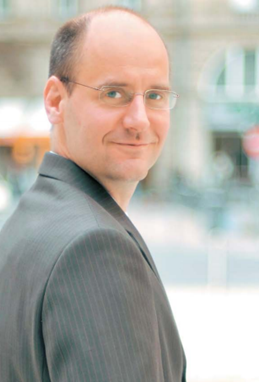 Photo: Volkmar Otto
Of course, I'll be there for you unchanged for the next 10 days. As always, I will answer quickly and gladly. We just have to postpone the phone calls to the afternoon.
2011-12-22: Further training at Kaiser-Permanente: Only for managers in the healthcare sector
From 22.-25. April 2012 Kaiser-Permanente offers a program "Learning from the Kaiser Permanente Model". It is aimed primarily at managers in the healthcare sector and shows how the effectiveness and efficiency of a healthcare system can be increased. You can find more information on their website.
Reason for this recommendation
Last September I was on a study trip with the MBA students from my institute in Silicon Valley and, in addition to Stanford University, was also able to visit Kaiser Permanente. This turned out to be a highlight because this visit gave me a surprisingly deep insight into the work of an HMO (Health Management Organization). All participants appreciated the transparency and didactic skills of the interviewees.
As a non-profit organization, Kaiser-Permanente forms its own health system made up of doctors, hospitals and insurance companies. The consequence with the
Preventive measures are taken,
"Evidence based" treated and
IT is used
convinced us. Incidentally, so does President Obama: He describes Kaiser Permanente as a role model for the (American) healthcare system.
There are no relationships whatsoever between Kaiser-Permanente and myself or the institute. This recommendation is made solely on the basis of the positive experience. "
2011-12-14: The first MBA is history
We were only just in Stanford. And now everything should be over again?
Yes, the first MBA is history. We completed this advanced course with two days on human resource management and negotiation. Not without a first celebration, of course.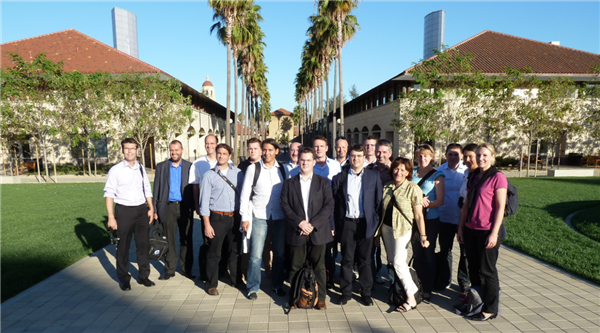 Is that it for good? My graduates ask me. I ask myself that too, because I already miss her. Fortunately, "it's not all over" yet:
On the one hand, no one will be able to take away our memories and the new knowledge and skills. We will enjoy and use both. On the other hand, I will set up a summer academy in the future. A few days to refresh your knowledge, learn new things and of course to meet again. The institute family is alive!
2011-10-13: place of mourning
Altars, churches and other memorials are built for saints. But what do you do when the saint has only been dead a week and there is no memorial?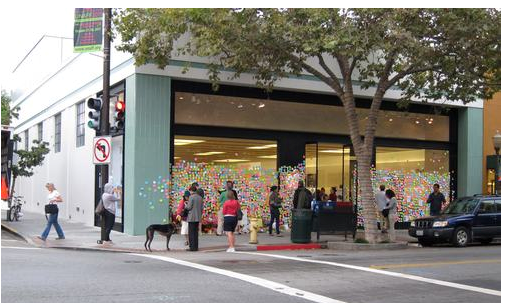 Post-Its - help here too. Incidentally, this picture (source) was taken on University Avenue in Palo Alto. It shows the Apple shop there. We were in there two weeks ago ...
2011-10-03: Good-bye, Stanford!
We can proudly say: We were in Stanford and were able to experience lessons from Stanford teachers that otherwise only Stanford students can enjoy.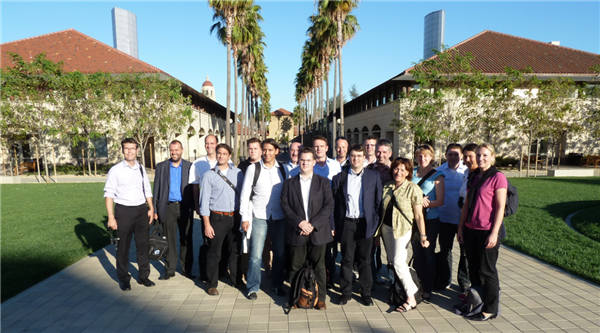 After an intense week, it's now going back. Some treat themselves to a detour via Las Vegas, others make a detour to Yosemite Park. Then we all return to our daily work - filled with new ideas and unforgettable memories.
2011-10-02: Horseman and Leadership
A week that is as intense as it is varied is coming to an end. There is only one item left on the program: our visit to the Webb Ranch.
And even this detour is related to our MBA degree: It's about leadership. But what do horses have to do with it?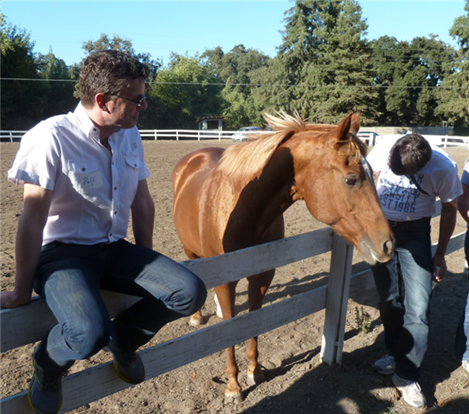 This question is answered at the latest when you try to lead a horse without a reins and a leash. I would never have expected to recognize so many parallels with my own leadership style and thus to learn so much about myself:
The laissez-faire manager leads his horse just like his team. The coach in our group sees himself as a coach and has no leadership ambition at all.
The task of saddling a horse in a team quickly makes it clear what one knows from everyday working life: Everyone understands the task a little differently. Everyone has a different idea of ​​whether / when the task is completed.
Several horses are led into the paddock. We are asked to describe how the horses treat each other. "One horse is shy", "one of them is definitely the boss" or "the two horses seem to like each other" are the first statements. But we mix up facts and subjective interpretations. Just as we often interpret the behavior of our colleagues, superiors and employees. Sometimes rightly, often not.
I also did not know that horses are used in the therapy of those traumatized by the war. But we have learned that there are many of them. With all the problems for the US healthcare system. And that brings us back to the focus of this MBA week in Stanford.
2011-10-01: US Healthcare System
It's hard to believe, the MBA week is almost over. "US Healthcare System" is the name of one of the last lectures. It rounds off our insight into the American healthcare system.
Our lecturer, Professor Nancy Hoffman, repeats what we have already heard in various contexts: The US health care system is the most expensive, one of the most inefficient, unjust and selfishly driven in the world. In some states, medical care - at least in terms of outcomes - is on par with developing countries.
No solution in sight?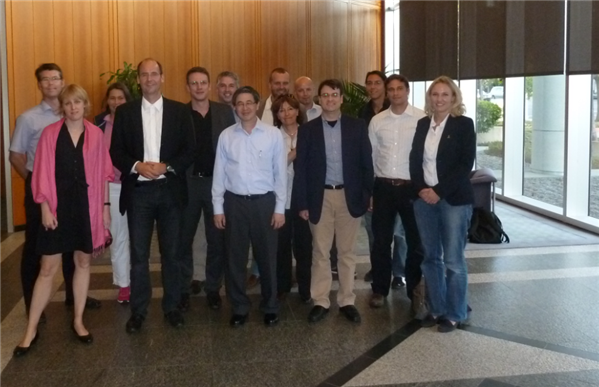 We are happy to have access to an absolute expert in Professor Paul Tang, one of the chiefs of the Palo Alto Medical Foundation. He is a member of the Advisory Board to the Obama Administration.We gain deep insights into the current discussion, begin to understand the background to the healthcare reform and learn the crucial importance of IT. Not just meaning, but billions of dollars as well.
2011-09-30: complexity
It was only here in the USA that I noticed that most of the lines in Germany are underground.
I am fascinated by the complexity that the stretched network of lines has.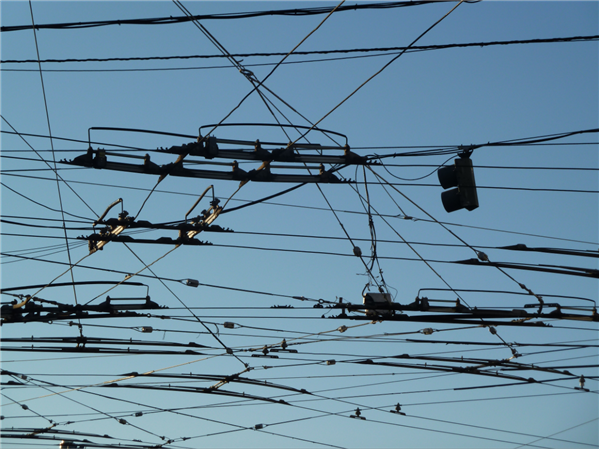 Somehow that reminds me of the software of some manufacturers. If you were to put their actual architecture on paper, it would look similar. I don't need to say a word about the maintainability, testability and reusability of such software.
Let me know if I can help you design a simple, safe, understandable and IEC 62304 compliant architecture. Get in touch with me right away.
2011-09-28: About Stanford
It is undisputed that Stanford is a "big" university. A big and famous name, but also a big site. I only really realize this when I fly over it: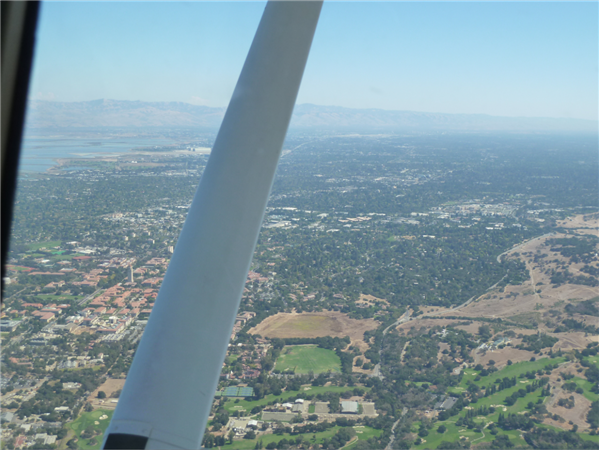 The lower half of the picture shows only university campuses. And that's just an excerpt. The 14 billion foundation assets seem to be invested sustainably.
2011-09-27: MBA: The first day
It's already history: our first MBA day in Stanford: A real lecture on campus in one of the regular lecture rooms. Held by a Stanford teacher.
Today it was about the modeling of biomedical systems, the representation of knowledge and above all about ontologies. The program included an overview of the history, the challenges in modeling and a hand-on exercise.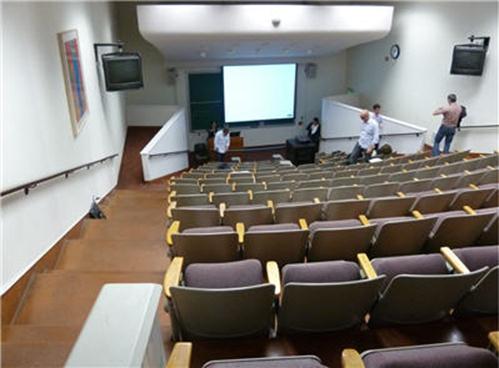 Tomorrow we will take a closer look at the applications of ontologies in biomedicine. And in the afternoon the "Electronic Medical Records" are on the schedule. We are even allowed to access the hospital information system at Stanford Hospital.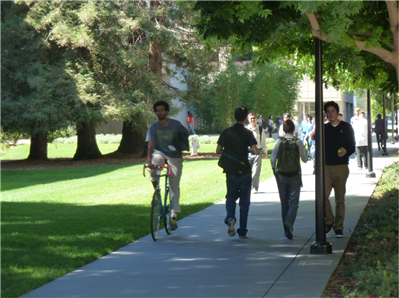 What a privilege to be here! We are all looking forward to more days on the Stanford Campus!
2011-09-24: Downtown SF
It's getting serious: my MBA students are drifting in bit by bit. Every machine from Germany seems to bring a student or two with it.
If possible, I pick up my students right at the airport in San Francisco - which gives me a good opportunity to go downtown as well.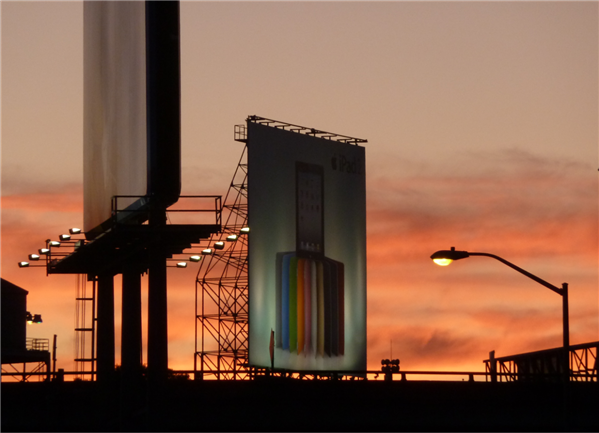 I will probably decide in October whether there will be a follow-up course. It could start in 2013. The waiting list is already starting to fill up. Who is interested: Just contact me.
2011-09-23: With Larry & Steve
It is known where Steve Jobs (Apple) will build his new house. At least I didn't know where and how Larry Ellison (Oracle) lives. Not even a mile away, also in Woodside, and therefore very close to Stanford.
It is not surprising that these billionaires' properties cannot be viewed. So I found it all the more exciting to be able to take a look inside anyway. The term property is a bit of an understatement. You live in your own landscape with a lake, forest, meadows, riding stables, numerous properties and whatever you need - if you live in a ClubMED alone with its employees.
In any case, an interesting insight - thanks to the Cessna 172, no problem.
2011-09-22: Scream, attack and make yourself bigger than you are
Do you think of your boss when you read this? I hope not.
I already have to smile a little earlier when I read this code of conduct. Not for dealing with superiors, but with cougars.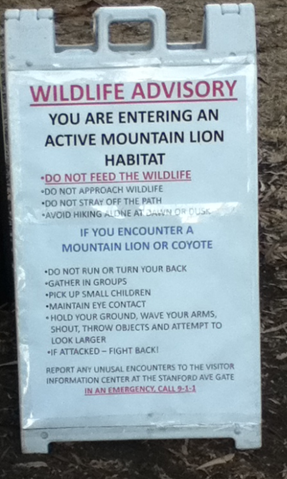 If it works, why not. It is definitely worth a try. And keeping eye contact and not turning your back on someone should also have helped in the work environment ;-).
2011-09-20: Welcome, Stanford Families!
My MBA students will be a little part of this family. Because we all live in the Stanford Guest House, which is reserved for guests of Stanford University.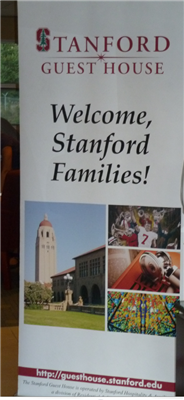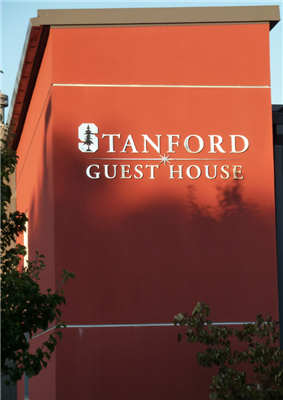 No other people can get in here. This is ensured by the security guarding the area on which the Stanford Linear Accelerator is located. Some Nobel Prizes have already been won with this linear accelerator: The right environment for my students.
Welcome, Institute Family!
2011-09-19: Education creates value
There are probably few places where the value of education can be demonstrated as measurably as here in the US:
The value of a house and thus the rental prices depend on the quality of the school in the respective district. And the quality of the school, in turn, is measured by the average grade that the school achieved in mathematics.
My chance acquaintance is happy that she can rent her house for 15% more: The next school last year relegated its eternal rival to second place. However, the lady admits, this would also increase the property tax.
Well, education also costs money.
2011-09-18: back @ stanford
After about 12 hours, overpunctual, I land in San Francisco. And 90 minutes later, I'll be back in Stanford.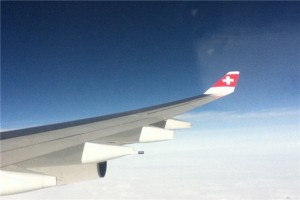 It's all so familiar and yet strange again. I still find it difficult to go to the Standford Guesthouse instead of "my" apartment, in which I lived for months.
Fortunately, I know the area and many people well. Because now it's time to prepare the final details for the MBA week.
2011-09-06: Medical records analysis - but without neurolinguistic programming
When I claim that there is more analysis of patient files with NLP, the other person looks at me as if I have gone completely crazy. I only understand his irritation when I realize what he means by NLP. Namely neurolinguistic programming.


I meant "Natural Language Processing". Not that I'm an expert on this. But at least I know one of the top experts, namely Professor Cedrick Fairon from the University of Louvain in Belgium. We shared the Stanford office for months. He's an incredibly nice person. I'll write to him right away, asking if he teaches at the institute.
So that you don't have to wait too long, you can find out more about this topic online at heise. (Thanks BF for the tip)
2011-08-31: Another two weeks
MBA course at Stanford
Another two weeks, then I'll head back to the USA. I will make the final preparations there so that the MBA course at the end of September will be a complete success. A strange feeling, a mixture of the joyful excitement about something new and the longing to be able to return to a treasured place.
Of course, it will not be possible to revive all the daily routines of the last Stanford stay. But I'm looking forward to meeting my colleagues, the incredible nature, the pulsating business in Silicon Valley and life on campus.
We will all live in the guest house at Stanford University. Fortunately, there is a shuttle directly to the medical school.
2011-04-04: Our lecture building!?!
Stanford is sure to be a perfect place to study. As it currently stands, we will even get the most perfect room within Stanford: In the brand new, sensational Li Ka Shing Learning Center. If that succeeds, I don't see how it could be topped. Hopefully it will work!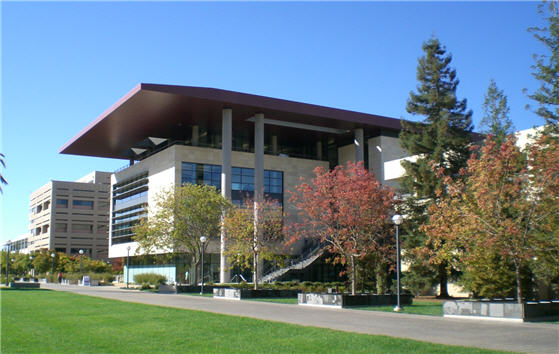 2011-03-30: SPIEGEL: America's students love Stanford
... my MBA students and me too
SPIEGEL has just reported that Stanford is the most attractive university for students in the United States. I also adore Stanford and will be traveling there with my MBA students in September. As Oscar Wilde said: I have very simple tastes: just always the best. 🙂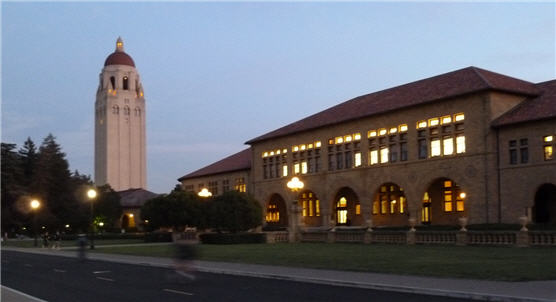 2011-02-17: part-time job
I've been back from Stanford for three weeks. But the joint projects continue. In my "part-time job" I take care of quality assurance for * the * central contact point for biomedical ontologies, the website http://bioportal.bioontology.org. I develop tests and in future I will ensure that at least major errors are recognized immediately and reported nightly. Let's see how many bugs I find ...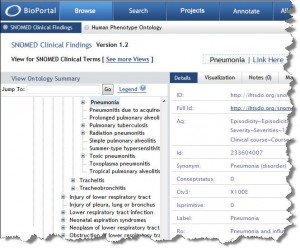 2011-02-14: What I'm missing
What can I say. Four wonderful months.
Thanks Ced for this souvenir.
2011-02-06: Publication weekend
I like locking things up. And this weekend I'll be able to do it twice:
The long-announced book on the Certified Professional for Medical Software came back from "copy editing". I made the changes I wanted and sent the final version back to the publisher. We have a sensational editor. So you can look forward to a first-class book that you can pre-order now in the institute's shop.
I was allowed to write another article for the hospital IT journal. This time it's about ICD-11. Since I was able to look behind the scenes at Stanford, it must have been an interesting contribution. So get the latest edition of the KH-IT-Journal!
With my best wishes for the new week
Your Christian Johner
2011-02-04: Stanford Report # 55 - End and Conclusion
"And how was it?" A really very good question that my master's students ask me. "Sensational" would be an appropriate summary, but certainly not as satisfactory an answer as this:
The USA
Under no circumstances do I want to compare Germany and the USA. That is not my place. But I would like to share some observations with you:
California, which I got to know from Lake Tahoe as the most north-easterly point to Santa Barbara as the most south-westerly point, is a beautiful country. I already miss the vastness and breathtaking nature - be it the Pacific or the mountains near Truckee. Just like the fantastic weather and the quality of the food. At least I hadn't expected the latter.
Conversely, there are of course some things that I missed in California: the craftsmanship (be it household appliances or buildings), our much-scolded health system, the more informational self-determination and the somewhat less state authority that we are allowed to enjoy in Germany.
Study, teach and work at Stanford University
I wanted to know: How do students learn? How good are they? How do you teach at a world class university? I could keep up with that. Well - after four months I have all the answers:
The students are better than those at a typical German university. I have not met any representatives of the Null-Bock or CPU-Low clock faction. The students are friendly, committed, talented, but also not high-flyers. Students who also like to party and know how to optimize the effort. The teaching is good, but I expect more from the lecturers at my institute. Especially from me.
The equipment of the university, be it financially, be it the laboratories or recording rooms, are far above the standard that I know from Germany. But it's not ostentatious, but stylish and functional.
And I encountered at Stanford University what I encountered in a few other places: the pursuit of excellence. Be it the producer at the Skywalker Ranch (George Lucas Studio), be it the artist Aaron Koblin, be it the engineers at Google. This excellence is what inspires and attracts me.
What i have achieved
And with this knowledge I achieved my first goal.
The second goal was to organize the USA stay for my MBA course. That turned out to be far more tedious and difficult than expected. But I'm all the more proud of the result, the program. So proud that I will write my own article about it.
With the third goal, too, I have fulfilled a huge wish: to be able to teach at Stanford University. I gave three lectures. That was unspeakably time-consuming and exhausting. But just as satisfying and fulfilling. I am incredibly happy to have achieved this goal as well.
But the most important goal was another. Namely, to add four more wonderful months to my life. And this goal is clearly overachieved. Thanks to everyone who contributed. Who gave up on me or even had more work. Thank you to my team Corinna and Michael, thank you to my master's students, thank you to you, dear readers, who have faithfully accompanied me for four months.
The Stanford Report ends with this blog post. Provisionally.
2011-01-31: Stanford Report # 54 - Home Foreign
I set the clocks to wintertime. That's right: when I left in September it was still summer here. And my internal clock is still a bit out of adjustment. I'm wide awake at four in the morning and I'm hungry as a bear. At two noon my eyes close. But my life in Germany is slowly starting again.
About a meter of post is still waiting for me. So much has piled up over the past four months. It's nice to know so many nice people, I think as I open the countless Christmas cards. Thanks!
2011-01-29: Stanford Report # 53 - Stanford Report
With my return, my Stanford Report is slowly coming to an end. Look forward to a brief conclusion in the next few days.
Thank you in advance for your faithful reading. I hope you enjoyed it as much as I enjoyed writing it.
Your Christian Johner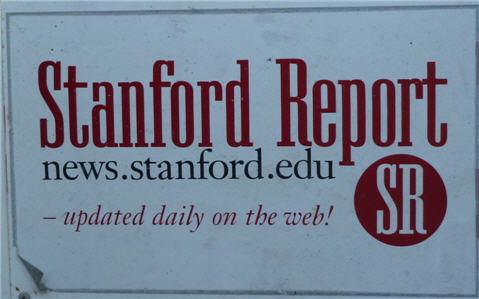 2011-01-28: polluters?
The press coverage is considerable. Because what the colleague on the floor above me published at least questions the USD 19 billion that the US government is investing in healthcare IT: patient care would hardly benefit from electronic health records. This is how one could sum up the result of this study.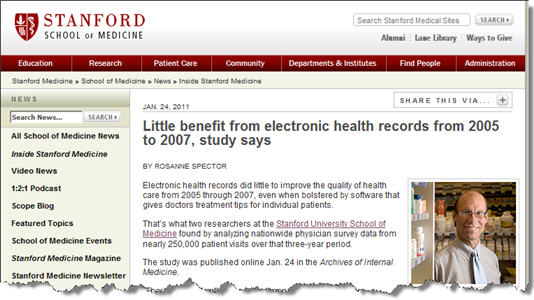 It may be surprising that such results are being published by an employee of the School of Medicine, which is driving these electronic health records. But a free science is a free science. And that's just as well. Whether the study is methodologically correct is another matter.
2011-01-27: Stanford Report # 52 - I'm staying
... unfortunately only one more day here. It's about packing, saying goodbye, handing over the keys. It's a shame actually. Spring has just begun. I'll have to get used to gloves and hats again.
2011-01-24: Stanford Report # 51 - If you don't know what you want ...
... will never be able to focus on one thing and become really really good at it. But that is exactly what is necessary. Not just because of success, but also to lead the life you really want.
An almost tragic example of the inability to know who you are and what you want is Yahoo! (see http://www.focus.com/images/view/47944/). Can you fall deeper?
2011-01-23: Stanford Report # 50 - Expulsion from Paradise
Not a day without doing something for the last time. The last lecture. The last concert visit. The last meeting with new friends. The last seminar.