Is it possible to land from Nigeria?
Nigeria's returnees: no money, no prospects
Loveth Ekumabor rocks back and forth in her chair almost imperceptibly. The young woman is eight months pregnant. She comes from Benin City, provincial capital of the state of Edo and a kind of stronghold of migration from Nigeria. Loveth has her arms crossed over her stomach. The baby is moving and the 21-year-old takes a deep breath. When asked about the father, she answers briefly and clearly: "My child has no father." The sun shines on her back as she tells her story. She sits in the common room of the "Welcome House", the committee for the dignity of women. It is a project of Catholic nuns who offer young women without families a safe temporary home.
Loveth became pregnant in Libya. It is a migration story like tens of thousands of others: Loveth hoped to get to Europe via North Africa. There she wanted to find a job, earn money and send it back to Nigeria. That was the plan when she left in 2016. "But the situation wasn't good and I decided to go back. I arrived on December 1st." Loveth does not want to tell what exactly she experienced in Libya.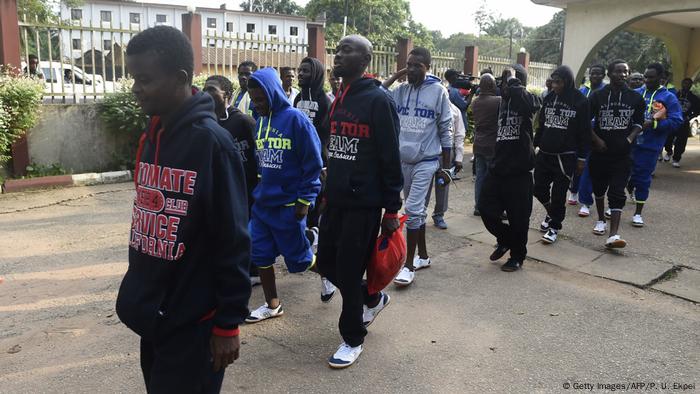 Nigerian migrants return from Libya in December
Thousands of Nigerians are still waiting in Libya
The International Organization for Migration (IOM) helped her, says Loveth. The organization has currently registered 36,000 Nigerians in Libya. The conditions there are often catastrophic in the reception camps for refugees. Since January 2017, the IOM has flown more than 7,300 Nigerians back from the North African crisis state - to Lagos, Port Harcourt and Benin City. The IOM has been particularly busy since mid-November. At that time, a report on the US television station CNN about a slave market on the outskirts of Libya's capital Tripoli caused horror around the world. Refugees are said to have been offered for sale there.
After the video appeared, the Nigerian government announced that it would bring the stranded back to their homeland as soon as possible. But according to Frantz Celestin, deputy IOM director in Nigeria, that will take months. Whoever wants to return must first be registered and examined, which requires a lot of organization. Above all, there is a lack of airplanes. "You can't even charter enough. The Libyan authorities determine which planes are allowed to land. And mostly they want companies based in Libya," says Celestin.
Rosemary, mother of four, made it back in November. The initial relief of having escaped the inhumane conditions has long since turned into anger. The single parent is now in the same situation that she was in a year ago - before she fled: "When we came back here, we received 40,000 naira (the equivalent of 90 euros). You can't do anything with that!", She says angrily. She used the IOM money to buy food for her children.
No money for rent and food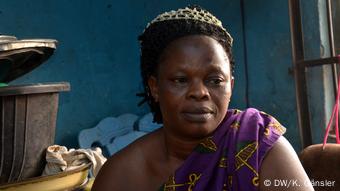 Mrs. Pat is glad that her daughter came back safe and sound
Rosemary, who refuses to give her full name, has been on the lookout for support ever since. The father of their four children is no longer alive.
When she was in Libya, her mother took care of the three girls, ages five to nine, and the two-year-old boy. "I was so happy that she came back safely," says Rosemary's mother, who is only called Mrs. Pat by her daughter.
Such a reaction is an exception. Many families get into debt to enable their relatives to flee to Europe. And if the returnees fail to send money from Europe, then they should at least pay off their debts. Instead, Mrs. Pat did not even know of her daughter's decision to emigrate to Europe via Libya. "She didn't tell me and I couldn't reach her for a long time."
Rosemary has no money to buy food for the children, support her mother, or rent a room. It costs between nine and twelve euros a month in the poor districts of Benin City. Sometimes she stays with friends at night, sometimes with acquaintances.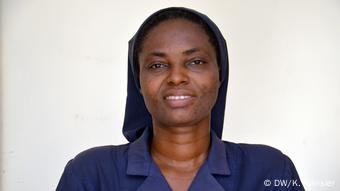 Sister Anthonia Iyade
Many returnees feel the same way, reports Sister Anthonia Iyade. She takes care of the young women in the "welcome house". "They want to do something. We tell them the government has plans. But you have to be patient."
Hold government accountable
In fact, there are different programs, including from IOM. "Among other things, we offer courses in business management or application letters so that returnees are interesting for the job market," says Frantz Celestin. Nevertheless, he estimates that 40 percent of returnees head north again if they again have no long-term prospects in Nigeria.
The mother-to-be, Loveth, would like to stay with this: "When my baby is born, I would like to go back to school. When I have finished school, I want to find a job," is her plan. However, she has not been accepted for a school place. Meanwhile, Rosemary almost screams when asked about her future. She also wants to work and earn money. Above all, she wants political engagement: "In Europe, the governments are doing something for their citizens. I want it to be the same in Nigeria!"