Wine tastes differently in different glasses
Find the right wine glass

The range of wine glasses is large, even so large that it is difficult to find your way around when buying a wine glass. Sure, white wines are drunk from smaller glasses than red ones, but how important are shape and size, and does it really have to be more than these two types of glasses? Our wine friend Jürgen Overheid took a deep look into the glass for us and today gives us a few useful tips.
How many types of glass should there really be?
Perhaps you have recently been thinking about purchasing new wine glasses and have discovered that you can purchase glasses for a wide range of different types of wine, some of which are specific to the grape variety. But is this really necessary, or does it just serve to increase sales for some glass producers? My personal experience is that a glass does have a strong influence on wine, but I don't think the differences are big enough to put ten different types of glass in the showcase. So for me the "magic" number is five. With a selection of two types of red wine and white wine glasses - for lighter and stronger wines - as well as a sparkling wine glass, the topic can be dealt with in a sophisticated way. It doesn't take more for me.

Decide on size and shape
The rule of thumb when buying the right wine glasses is actually quite simple: the stronger and perhaps younger a red wine, the better it will look in a tall glass with a large volume. With lighter, more aromatic wines, a thick "belly" brings more oxygen contact and makes the wine appear more intense. This also applies to white wines, except that the glasses are a bit smaller overall. And with sparkling wines, it should also be noted that a glass also influences the "behavior" of the carbon dioxide. The right choice of glass is also a matter of experience.
Personally, with strong, still young white wines, I often feel that I cannot cope with a classic white wine glass and prefer to switch to a larger red wine glass. Of course, the shape also plays an important role. Practically all well-made glasses have a certain "belly" to supply the wine with sufficient oxygen and a "chimney", i.e. a shape that narrows towards the top, which condenses the scent of the wine on the nose.
Five types of wine glasses for all situations
1. Bordeaux glass: for strong and tannic red wines.
The voluminous volume gives the wine the necessary freedom to develop. The shape supports the typical characteristics of a great wine with a wide surface area and a high chimney. The round tannins bind themselves powerfully and with high concentration into the fruit due to the wine level. The fragrance molecules condense in the closing glass fireplace and expressively unfold over the edge of the goblet. A Bordeaux glass is suitable, for example, for wines from the following regions and grape varieties: Cabernet Sauvignon, Cabernet Franc, Nebbiolo, Médoc, Margaux, Pauillac, Barossa Valley and Mendoza.
2. Burgundy glass: for aromatic, fruity red wines
Not only a Pinot Noir or Pinot Noir captivates with lots of fruit and fine flavors that require a slightly more voluminous glass in order to develop well. Grape varieties such as Barbera, Blaufränkisch or Gamay also go well with this type of glass. And even strong white wines such as Chardonnay matured in barriques or old Rieslings stored in wood feel good in this pot-bellied glass.
3. Chardonnay glass: for strong white wines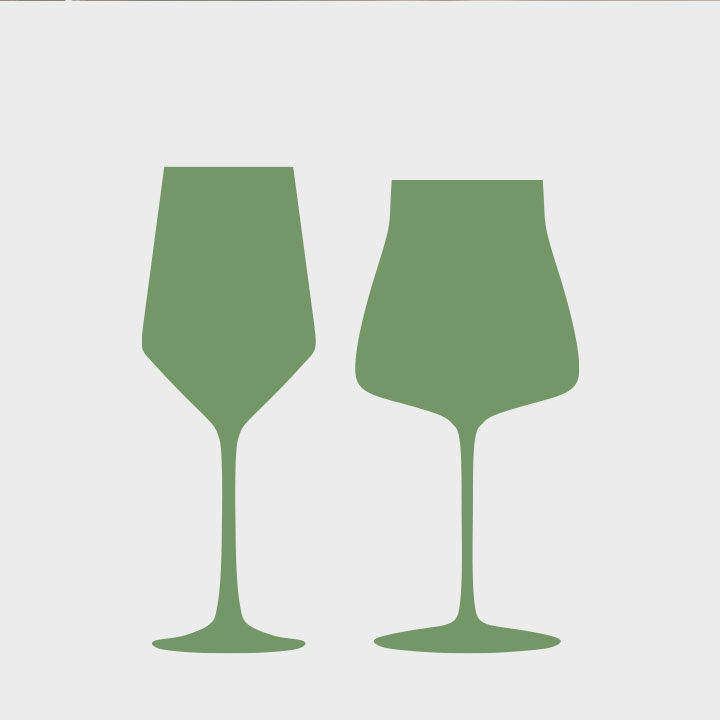 Due to the stately width and the tapered cup, the aromas can unfold richly. The characteristic "low point" at the bottom of the goblet and the resulting large surface of the wine moderate too cool a temperature in the wine and allow strong wood notes in the wine to be softened. White wines appear smooth and round in this glass. These white wines can be best drunk from a large white wine glass: Pinot Gris, Gutedel, Puligny-Montrachet, Meursault, Corton-Charlemagne, Chablis, Stellenbosch, Maipo Valley, Hunter Valley and Marlborough.
4. Riesling glass: for light, aromatic white wines
The Riesling glass has an elegant and smooth stem. The shape, which closes slightly in the middle, promotes the long-lasting taste by carefully embedding the minerality and classy acidity and yet carefully handling the fine fragrance notes. This is also supported by the fine wall thickness and the concave shape of the goblet, which preserve the fragrances transported by oxygen and alcohol particularly well. For example, the following wines are also suitable for a Riesling glass: Grüner Veltliner, Gewürztraminer, Cortese, Verdejo and Vinho Verde.
5. Champagne and sparkling wine glasses
Even if champagne and other bottle-aged sparkling wines are best suited for this type of glass, they can also be used to enjoy an ordinary sparkling wine. The flat, wide floor and the high chalice shape, reminiscent of a chimney, which tapers increasingly towards the top, are striking. The wide opening gives plenty of space for the carbon dioxide to develop. The aromas are carried by carbon dioxide and develop undisturbed and stimulating. The "mousse point" - a small elevation on the bottom of the goblet - ensures a fine and orderly play of carbon dioxide pearls.
Machine production or hand-blown?
Hand-blown glasses naturally feel of higher quality due to their thin walls and the feeling on the lips is also finer. However, they are usually more expensive and are also comparatively easy to break. Nevertheless, one should consider buying at least a few of these noble glasses. Many blind samples have shown in the past that the smell and taste perception from these glasses is better than that of their machine-made colleagues.
I would be delighted if my contribution provided some wine-friendship perspective and hope that in the future you will only toast with the right glasses.
Reading tip: What does quality mean in wine?
What did you think of the article?
4.49 stars | 61 ratings